Vision Statement
The vision of Indriya Retreat is:
to provide an international donation-based meditation centre for the instruction and intensive practice of the four foundations of mindfulness vipassana meditation.
to be a community retreat centre for the study and practice of the Pali Suttas to facilitate the training of teachers in the vipassana insight meditation tradition.
the development and maturing of the five spiritual faculties – faith, energy, mindfulness, concentration, and wisdom – for the realisation of Stream Entry.
Mission Statement
Indriya retreat plans to offer trainings in authentic Buddhist meditation techniques in 7-day and 21-day meditation retreats. At present there is a real need for instruction that transmits the heart of the Buddha's message in fluent and modern English to lay-meditators from around the world. Indriya's commitment is to offer the inspiring teachings preserved in the monasteries of S.E. Asia to the modern spiritual seeker within an intensive retreat environment. Indriya Retreat will operate donation-based retreats in line with the Buddhist tradition of giving and generosity (dana).
Intensive insight meditation (vipassana) retreats that systematically develop intuitive wisdom through freeing the mind by noting, knowing and letting go.
Loving-kindness and compassion (mettakaruna) retreats that open the heart to liberation through contentment, acceptence, patience, gratitude and empathy.
Pali Sutta (translation) retreats that allow meditators to examine the ancient discourses to gain a reflective acceptance of the teachings to inform their own practice.
Indriya Retreat seeks to offer opportunities to international meditators to immerse themselves for extended periods of personal retreat to mature the Indriya (spiritual faculties). The purpose of the retreat centre is to create an environment conducive to this direct breakthrough and Awakening.
three month 'rains retreat' for intensive personal retreat in a fully supported environment with meditation guidance and material necessities.
Indriya retreat seeks to create a community dedicated to personal, communal and societal growth. The retreat centre will provide a training centre for the long-term development of communities by integrating the insights gained on retreat into positive foundations for practice in daily life in the world.
train competent, informed and well-practiced meditators to be Community Dhamma Leaders to facilitate meditation retreats and workshops worldwide.
provide content and instruction for Dhamma scholars and meditators around the world via online platforms as a free community service.
Anthony Markwell is an Australian Dhamma teacher and meditation instructor who shares his knowledge and practice of meditation by leading vipassana and metta retreats, evening talks, and weekend workshops. Anthony is the founder and resident teacher at Indriya Retreat, a new English-speaking donation-based vipassana insight meditation centre on Koh Phangan, Thailand. He previously lead retreats at Kow Tahm Insight Meditation Centre between 2013-2016, where he guided thousands of meditators through silentmonthly 7-day and annual 21-day vipassana retreats.
10 Years as a Buddhist monk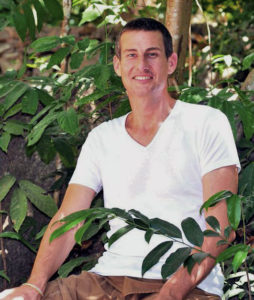 Anthony ordained as a Buddhist monk aged 24 at Wat Khao Chong Lom in 1995 with his first teacher Ven. Phra Acharn Leua Pannavaro. He was instructed in satipatthana vipassana at Vivek Asom Meditation Centre by Ven. Ajhan Charee Jaruvanno and Ven. Ajahn Somsak Sorado, and practiced intensely at Wat Don Put under the late Ven. Luang Por Bhavanakitti, a rare monk of noble wisdom. He moved to Myanmar to continue his training in the Mahasi method in 1996, receiving strict personal supervision during a seven-month retreat with the late Ven. Sayadaw U Pandita at Panditarama, Yangon. Those two years revelled the method and mode of insight practice.
The lure of the forest monk lifestyle and deep concentration led Anthony to seek out the Ven. Sayadaw U Acinna in 1997 at the Pa Auk Forest Monastery, where he received instruction for a year in anapanasati (mindfulness with breathing) and four elements meditation. Anthony retreated to the hills of the Shan State for a furtheryear of meditation in an isolated monastery. After four years in robes and constant practice, Anthony studied Buddhist texts and Pali language at the International Buddhist University in Yangon consolidating his meditation experiences with scriptural studies. His interest in Pali was furthered through self-study whilst living at the Shwedagon Pagoda in 2000.
A two-year pilgrimage gave the opportunity to wander and dwell in the forest meditation monasteries of Sri Lanka. He attended the Kalachakra Initiation with His Holiness the Dalai Lama in Bodhgaya 2002, and developed an interest in choiceless awareness meditation techniques during visits to monasteries in India, Nepal, China and Tibet. Anthony spent three extended rains retreats between 2002 – 2005 practicing satipatthana vipassana at Wat Pitsoparam, Ubon Ratchathani,with the late Ven. Luang Por Visarnkemakoon. In 2006, returned home, disrobing from the monkhood after 11 vassa. He experienced life in Melbourne studying and working in the wholesale diamond and gemstone industry for seven years until 2012. He returned to Thailand in 2013, and at the request of Ven. Ajahn Poh (Suan Mokkh) led popular meditation retreats at Wat Kow Tham Insight Meditation Centre until November 2016.
Present
Anthony is currently establishing Indriya Retreat – Dhamma and Meditation Hall in a secluded fruit garden in the Srithanu area of Koh Phangan, Thailand. The construction of the meditation hall and other infrastructure is ongoing. He plans to lead vipassana retreats each month beginning in July 2019 if the building work is completed. Stay tuned…